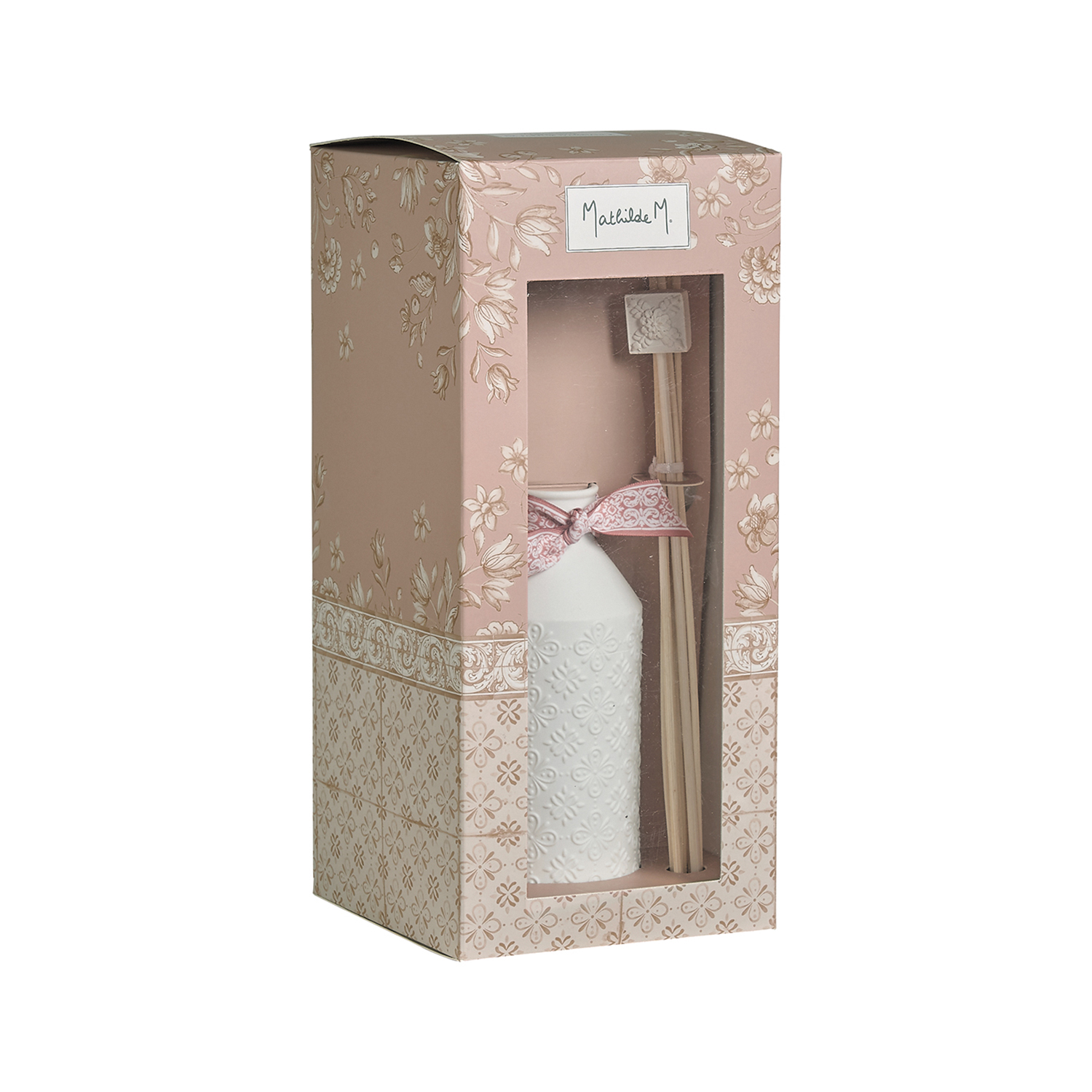 Home Fragrance Diffuser
bou-1150
These charming diffusers are available in Fig, Cotton Flower, Mandarin Flower and "Marquise" the signature scent of Mathilde M. The fragrance perfumes the interiors, diffusing the irresistibly sensual scents of the Portuguese ambiance. Delicately arranged in the bottle, the natural rattan stems are impregnated with perfume by capillarity, then releasing it for several weeks.

The box contains a fragrance diffuser, fragrance refill 200 ml, 6 bleached rattan rods, and 1 bleached rattan rod with plaster decor.

Our advice for use
Arrange the stems directly in the diffuser so that they soak up the room fragrance. Renew the recharge or change the scent according to your desires to extend the life of the diffuser to infinity. You can vary the intensity of the perfume by adding/remove stems or turning them over. The duration of your diffuser depends on how often you turn the stems, the temperature of your room and also the season.
Size: Figuier Dolce, Fleur de Coton, Fleur de Mandarin, Marquise

FIGUIER-DOLCE
Dimensions: 10" H x 4.75" W x 5" D Weight: 1.2 lbs

FLEUR-DE-COTON
Dimensions: 10" H x 4.75" W x 5" D Weight: 1.2 lbs

FLEUR-DE-MANDARIN
Dimensions: 10" H x 4.75" W x 5" D Weight: 1.2 lbs

MARQUISE
Dimensions: 10" H x 4.75" W x 5" D Weight: 1.2 lbs

$82.00