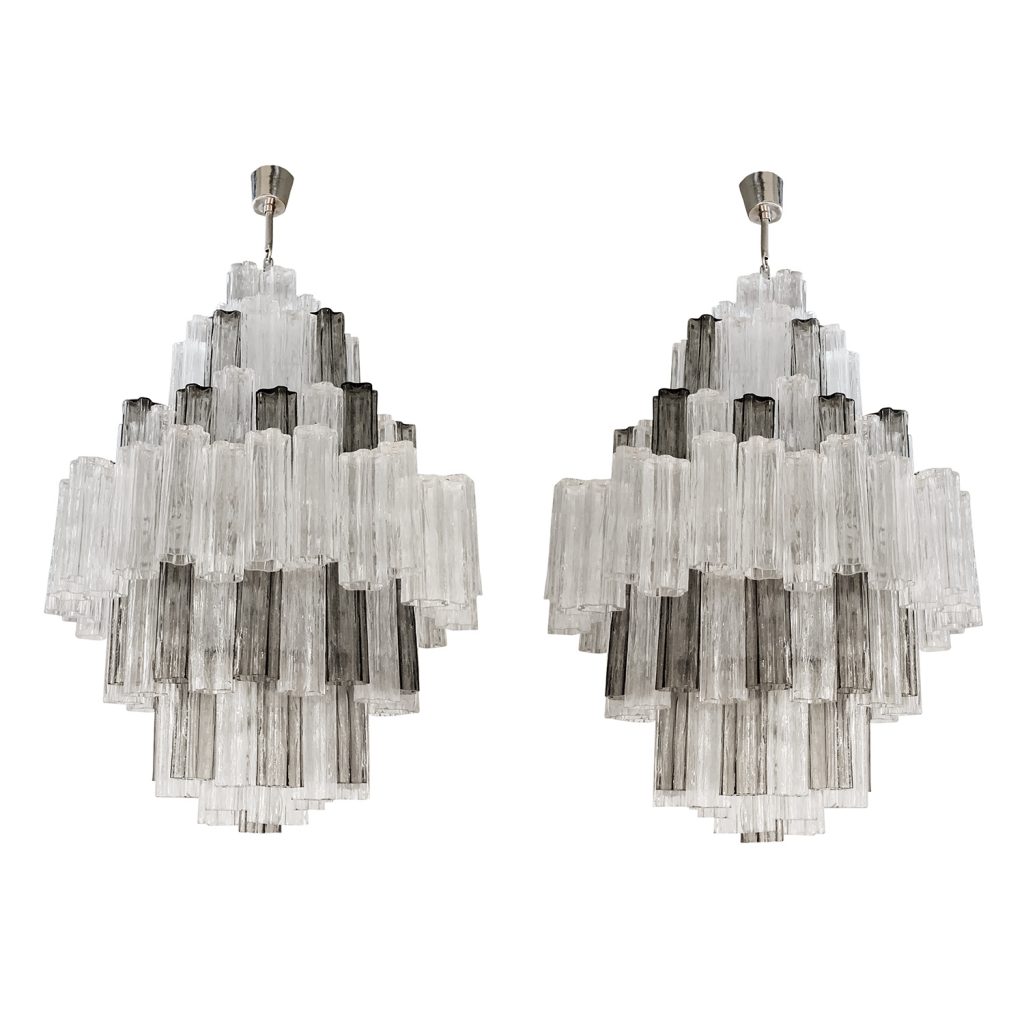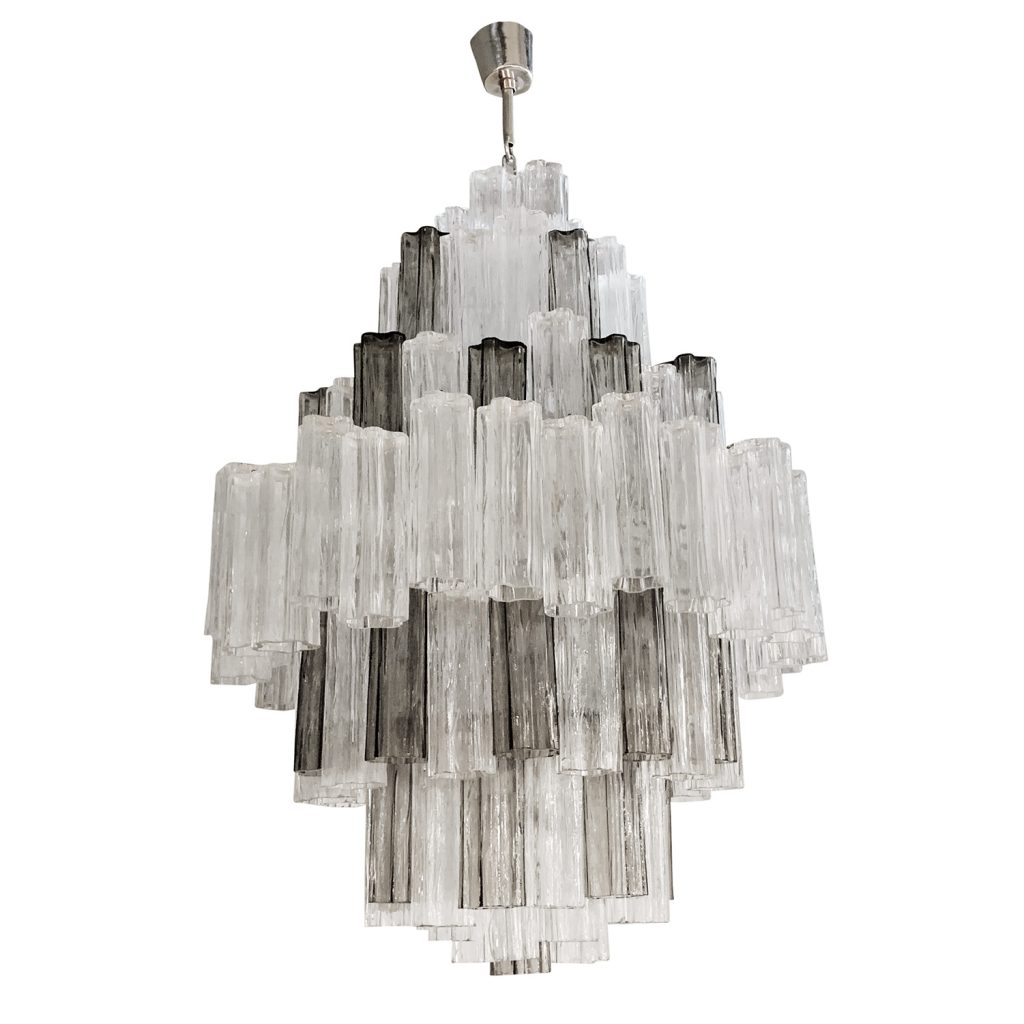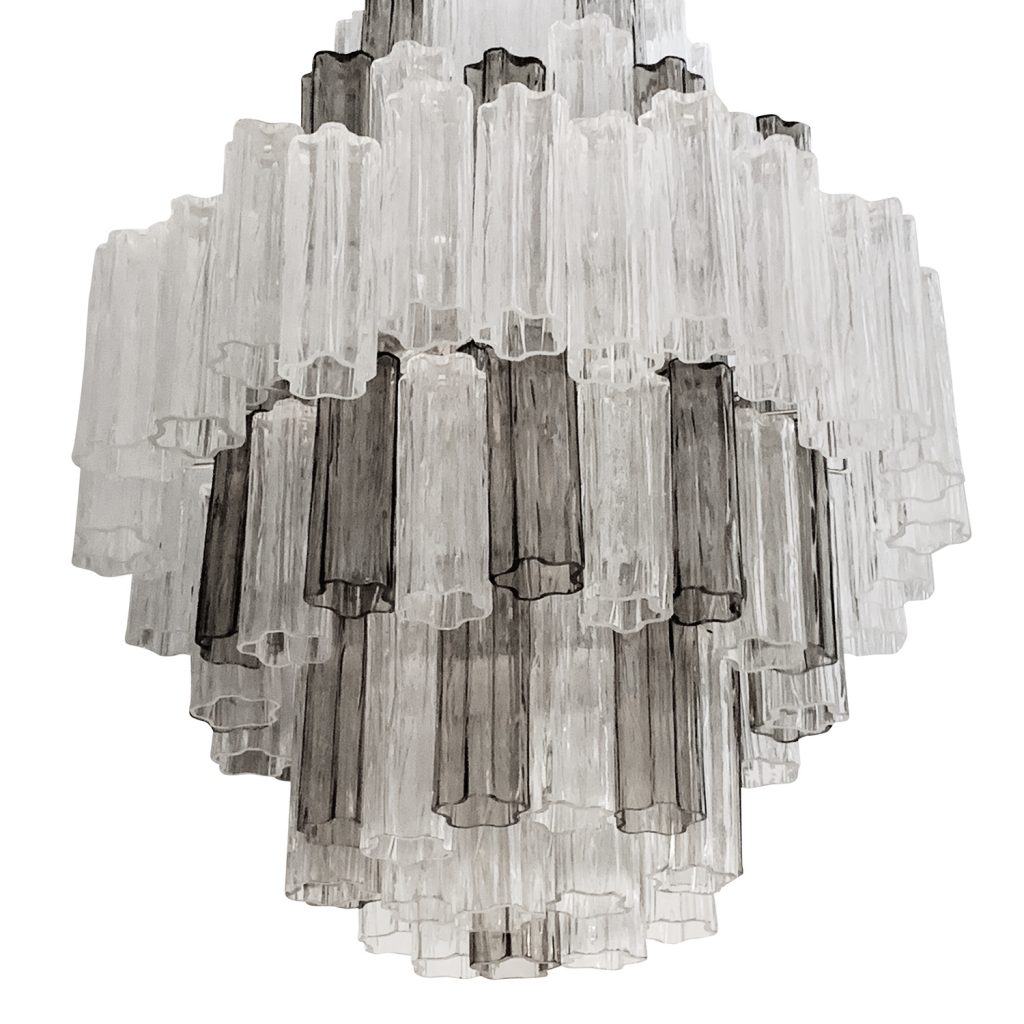 20th Century Italian Pair of Eight Tiered Murano Glass Chandeliers by Paolo Venini & Toni Zucceri
peli-1718
An exceptional vintage Mid-Century modern Italian pair of chandeliers on a chrome base and multi-color handblown Murano glass in good condition. Each eight tiered pendant is composed with circa 150 Tronchi glass pieces, featuring six light sockets, enhanced by very detailed decoration. The pair was designed by Paolo Venini and Toni Zucceri. A stunning design element for an entrance hall. The wires have been renewed. Wear consistent with age and use. Minor Losses on some glass pieces. Circa 1950 - 1960 Murano, Italy. 

Tronchi glass: 8.25" H x 2.5" diameter

Light fixture: 50" H x 30" diameter

Paolo Venini was born in 1895 Cusano near Milan, Italy and passed away in 1959 Venice, Italy. He was an Italian lawyer and designer. In 1921, Venini opened a glass factory on the islands of Murano with his partner Giacomo Cappellin which they named Vetri Soffiati Muranesi Cappellin Venini & Co.

Toni Zuccheri was an Italian architect and designer born in 1936 in the province of Udine, Italy  and passed away in 2008. At a very young age he started working on glass techniques, where he developed his skills. In 1960, Zuccheri studied architecture, his masters were the Italian architect Franco Albini and Carlo Scarpa. After his studies, he started working at Venini where he invented and reinvented working techniques, shapes and colors. Later on, he worked together with well-known architects and designers, such as Gio Ponti, Lucio Fontanta etc.
Material: Chrome, Glass
Details: Murano Glass
Country of Origin: Italy
Dimensions: 58" H Weight: 380 lbs

Inquire