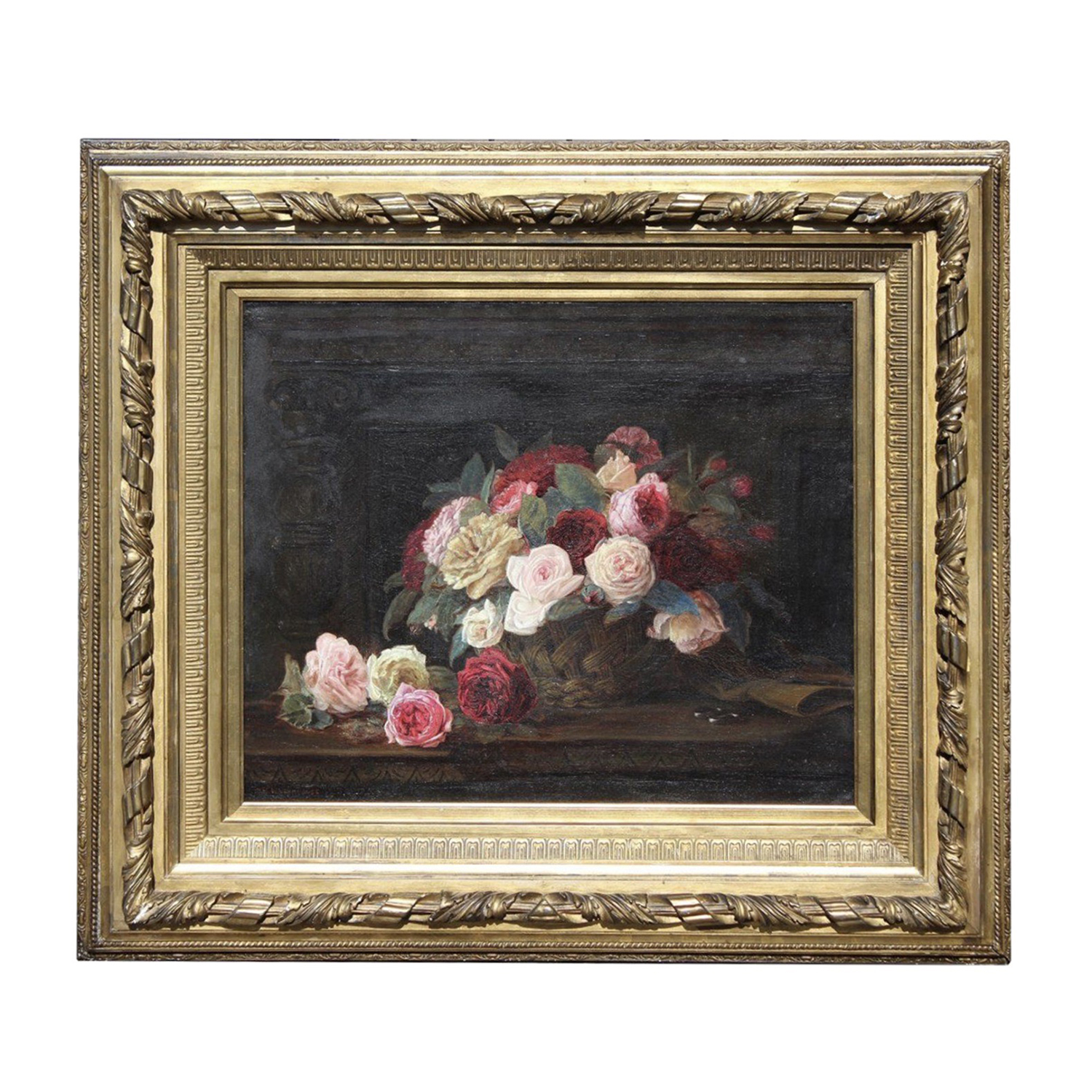 19th Century English Still Life Oil Painting with Flowers by John William Waterhouse
pai-1081
A black-red, antique English school, still life oil on canvas painting depicting a basket with many colorful roses, flowers painted by John William Waterhouse in a hand carved, original gilded wood frame, in good condition. The colorful painting depicts a working table in a dim room, representing the 19th Century Impressionism art movement, period. Signed J.W. Waterhouse on the lower left. Wear consistent with age and use. Circa 1870 - 1890, London, England.

Without the frame: 19.5" H x 23.5" W x 1" D

John William Waterhouse was an English painter and a Pre-Raphaelite Brotherhood, later known as Pre-Raphaelites born in 1849, in Rome Italy and passed away in 1917, in London, England. He lived most of his life in London, known for his Academic Art or Academicism style ( painting and sculpture compounded under the influence of European Academies of Art - influenced by benchmarks of the French Académie des Beaux-Arts which was practiced under the two art movements Neoclassicism and Romanticism ). Waterhouse started to study at The Royal Academy of Arts, in London. Many of his paintings are based on authors such as the Roman poet Ovid and the English poets William Shakespeare and Alfred Tennyson. During his life time he painted 118 paintings.

Pre-Raphaelites was a group of English painters, artists, poets and art critics founded in 1848 by William Holman Hunt, John Everett Millais, Dante Gabriel Rossetti, William Michael Rossetti, James Collinson, Frederic George Stephens and Thomas Woolner who created a seven-member Brotherhood. The principles were intentional no-dogmatic, influenced by Romanticism.
Material: Oil On Canvas, Wood
Details: Gilded Wood
Country of Origin: France
Dimensions: 32" H x 36" W x 2.5" D
Inquire