Everlasting Greens and Florals of Authentic Provence
September 7, 2023

At Authentic Provence, there is an unwavering appreciation for the transformative power of a grand exterior. The first impression of a home is often defined by its surroundings, and the carefully chosen plants and topiaries play a pivotal role in creating a lasting impact to enhance the beauty of the planter. The selection of plants and faux topiaries available at Authentic Provence is carefully curated to ensure that they not only complement the architectural aesthetics of a space but also add a touch of natural elegance.

One of the most coveted elements of the Authentic Provence collection is the Boxwood, a symbol of timeless beauty and practicality. What sets Authentic Provence's Boxwood apart is its unique ability to serve both outside and inside, a feature that is truly exceptional in the realm of faux plants. This versatility not only enhances the aesthetic appeal but also simplifies plant care, relieving homeowners of the usual worries associated with live plants. Moreover, when paired with exquisite planters from Authentic Provence, such as the Versailles planters, Orangerie planters, and Anduze planters, the Boxwood achieves a level of refinement and charm that is simply unparalleled. Whether adorning a grand entrance, a garden pathway, or a sophisticated interior space, the combination of boxwood and Authentic Provence's planters creates a harmonious and captivating aesthetic that captures the essence of Provencal living.
Discover preserved boxwood, a testament to the timeless allure of nature. These enduring creations encapsulate the essence of live boxwood without the upkeep, granting you the pleasure of their vibrant greenery throughout the year. For those who desire an authentic plant experience, preserved boxwoods retain their scent and freshness. Available in various sizes, they effortlessly fit into any pot, planter, or vase, and can be hung or placed on tables and shelves to adorn your space with their exquisite, natural shapes and color.

Olive trees, with their gnarled trunks and silvery leaves, transport you to the rustic charm of a Mediterranean villa. Their presence exudes tranquility and a sense of history, making them a must-have for those seeking a touch of Provencal charm. What sets the olive trees from Authentic Provence apart is their remarkable realism. They look so authentic that it's nearly impossible to discern the difference from their living counterparts.
Orchids, delicate and exotic, bring a touch of the exotic to your space. They add a dash of opulence to any room, creating a sense of luxury that is hard to match. Authentic Provence proudly features orchids in the soil in larger sizes, making them ideal as floor plants that serve as captivating focal points in any room. Authentic Provence also offers petite arrangements of smaller orchids in charming terracotta planters.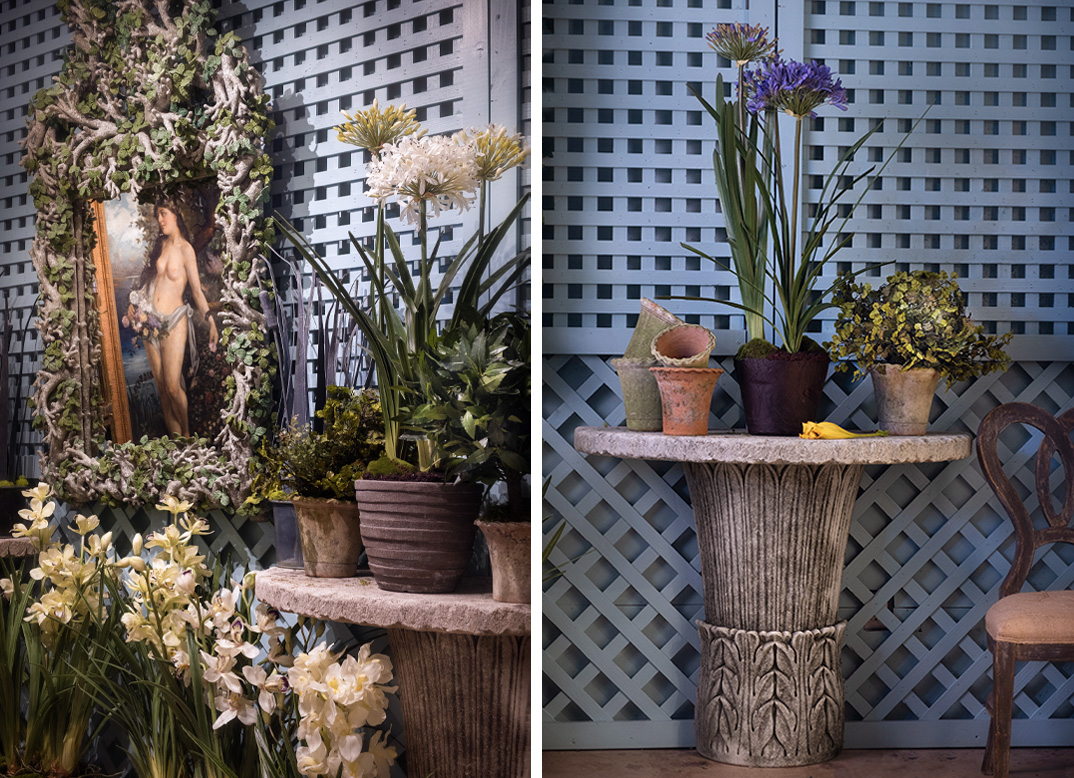 For those who appreciate the timeless allure of blue and white blossoms, Authentic Provence offers Agapanthus, also known as Lily of the Nile. These vibrant flowers are a testament to nature's artistry, adding a striking pop of color. Whether as a focal point in your living room or an accent in your kitchen, Authentic Provence's Agapanthus brings the enchantment of the natural world to your indoor spaces, leaving no room for indifference to its faux beauty.
Embrace the beauty of nature with our versatile faux wild fern arrangement, an ideal choice for centerpieces, vases, or any other decorative space. These lifelike ferns harmonize perfectly with rattan-style baskets or terracotta planters. What's more, their fuss-free nature means they can be placed on pedestals or in hard-to-reach areas, as they require no care in interior spaces. Combine them with orchids or other plants for visually captivating arrangements.
Transform your space with the vibrant charm of lemon trees and branches, infusing an Italian limoncello ambiance. The bright yellow tones add zest and vitality to any interior, complementing both neutral and eclectic decors. Lemon trees thrive in Provencal-style baskets or glazed terracotta planters, while lemon branches can be placed in vases, antique jars, or pitchers. This simple addition brings a touch of Mediterranean elegance, imbuing your space with a fresh and inviting retreat.
Authentic Provence is a place where the beauty of nature meets the artistry of design, creating a world of sophistication that leaves a lasting impression on all who step through its doors. So, whether you're looking to transform your home's exterior into a grand masterpiece or seeking that perfect accent to complete your aesthetic, Authentic Provence is where your journey begins.